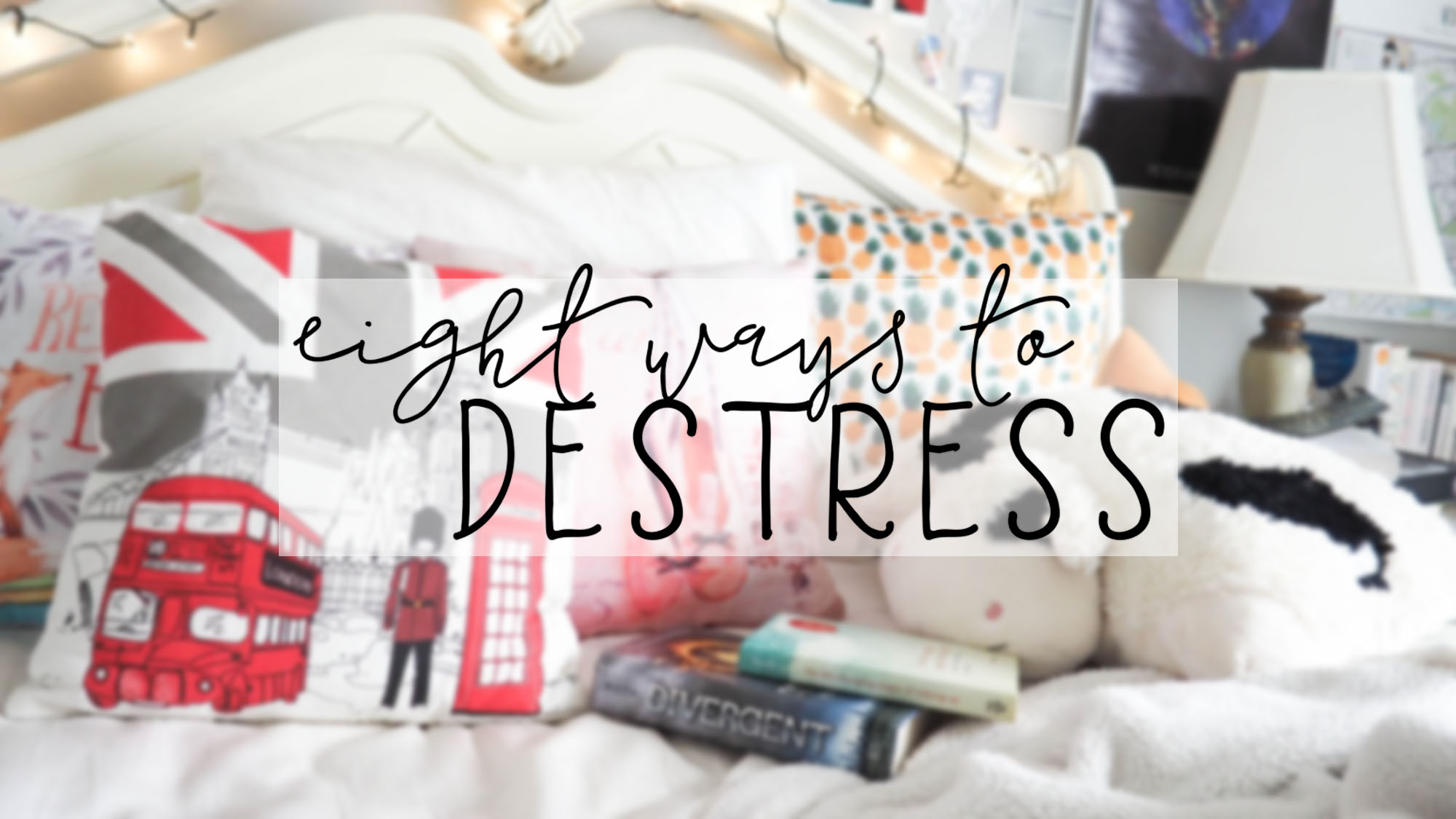 there's no doubt you probably feel stressed at LEAST 300 times a year. (okay, just me?) although i know stress is sometimes good for you, there are times when it's necessary to give yourself a breath. i'm feeling pretty stressed myself (better now, but when does stress ever fully disappear?) and i'm sure you may be too. whether it's from finals or holidays or SOMETHING, here are some ways you can destress:
clean your room
so i just came back from traveling and my room is a m e s s. your room should be a place you can relax and rewind, but for me it's turning into something i'm worried about. and honestly, it's probably making things worse. i remember marie kondo mentioned in THE LIFE CHANGING MAGIC OF TIDYING UP that people have urges to clean their room when they're stressed. something about having your physical setting cluttered affecting your mental setting. mmmmmm sounds about right. CLEAN YO ROOM.
take care of yourself
and while you're cleaning your room, you can also clean yourself. meaning: take a bath, do a face mask, paint your nails, experiment with makeup, get a massage, drink some water, try yoga … you get the idea. this always ALWAYS makes me feel better. if my mental self isn't at its prime, at least my physical self is. never underestimate the importance of taking care of your body.
indulge in some pop culture
sometimes you just need to open netflix and chilllllll. seriously, chill in bed and watch that movie you've been wanting to (re?)watch. read the book you've been wanting to pick up. (unless that stresses you out. then obviously, DON'T.) shamelessly sing along to songs you love. (echm HIGH SCHOOL MUSICAL~~~) it's really relaxing to get caught up on other people's problems and forget about your own. :))))
take a walk
nature is your best friend; nature is my best friend; nature is everyone's best friend. did you know I LOVE NATURE? and in all honesty, you probably do too. maybe it's because i'm cooped up in a ballet studio hours on hours a day and hardly ever see the sun, but I LOVE NATURE. i'm sure many of you are stuck in a classroom or a work office missing the vital vitamin D. take a ten/fifteen/twenty/thirty/however-many minute walk and just breathe in the fresh air. can i get an "ahhhhhh"?
find something to color
adult coloring books are super trendy now. it's probably because someone found out it combats stress and all the adults were like, "i'M A STRESSED HUMAN WHO NEEDS THIS." pull out those colored pencils or crayons or markers and get coloring because apparently, it's very relaxing. (haven't tried it myself yet but…) if you don't have a coloring book on hand, i know there are many apps you can download that do the trick. (i've tried this and it is THE BEST.)
make a list. any list!
hey! look at me! i'm a stressed human who is making this list and it's making me feel soooooo much better in all honesty. i haven't blogged "properly" in like five months but here i am, making this list, not completely falling apart. if i can do it, you can too. here are some prompts:
things that made you happy today
compliments you can give to others
things you're grateful for
experiences you enjoyed this year
your favorite books/films/songs
hobbies you want to try
languages/subjects you want to learn
places you want to go
… and so many more!!
light a candle
there is a candle next to me as i type and i promise you, this makes a huge difference for my personal wellbeing. i swear it's not because i've been kinda obsessed with candles lately. candles are great because 1) they smell good, 2) they provide light to your dark soul room, 3) they flicker this way and that which makes it interesting to watch, 4) did i mention they smell good? candles are great.
take a digital detox
wanna know what's great? the internet. wanna know what else is great? stepping away from the internet. although i love love love my phone/laptop, i do feel that it can be a soul-sucking vortex. one minute you're feeling great about your life and the next you're upset because timmy turner got the book you wanted and wanda has perfect hair and cosmo's food just looks SO GOOD. life on the interwebs can be misleading and negative, and sometimes you gotta TAKE A BREAK. even if you're not on the internet, yout devices can still be soul-sucking. i challenge you to go a day (three days? a week?) without ANY usage of anything with a screen (i.e. phone, laptop, T.V., etc.). may the odds be ever in your favor, my friend!
what are some things you do to destress? let me know in the comments!